Rallye de Paris
Wandrin' Star, Coefficient 2 ClubRally
Paris by Night, Coefficient 3 ClubRally
Paris, Texas (Camp Maxey)
March 27, 1999
Photos © 1999 by Tim Winker, Saginaw, Minnesota
Click on thumbnails to see larger photo.
Row 1
Pre-event photos
1. J.B. Niday/Al Kintigh prepare for the debut of J.B.'s VW GTI.
2. Some of the Minnesota Mayhem Mafia at the Eiffel Derrick.
3. Drivers Richard Miller, "Mad" Mike Halley and Jeremy Butts.
4. Jeff Burmeister goes over the Route Book one more time in Mark Larson's Talon.
Row 2
5. The Butts/Winkleman plan to slow down the Utecht/Sargent Omni GLH.
6. Mark Utecht/Diane Sargent, 86 Dodge Omni GLH, Gp. 5.
7. Mike Hurst/Rob Bohn, Mazda RX7, Gp. 5.
8. Driver Karen Burrows pauses for a pre-rally portrait (her Galant is right-hand drive).
Row 3
9. Utecht/Sargent Omni GLH.
10. Hurst/Bohn Mazda RX7.
11. Bill Morton/Busalacchi, Mitsubishi Lancer Evolution IV, Open class.
12. Ken Stewart/Ralph Starr, Chev S-10, Open. DNF after SS2 due to a holed piston.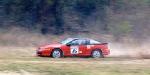 Row 4
13. Karen Burrows/Ken Cassidy, Mitsubishi Galant, PGT.
14. Arthur Oder-Jowi/Jim Hurley, Mitsubishi Eclipse, Open class.
15. Mark Larson/Jeff Burmeister, Eagle Talon, PGT.
16. Jeremy Butts/Kurt Winkleman, Plymouth Fire Arrow, Gp. 5.
Row 5
17. Dariusz Bosek/Tomasz Zaremba, Eagle Talon, Gp. 5.
18. "Mad Mike" Halley/Mike Brown, Dodge Ram 50, Production.
19. J. B. Niday/Al Kintigh, VW GTI, Gp. 2.
20. Richard Miller/Juanita Miller, Saab 900 Turbo, Gp. 5.
Row 6
21. Utecht/Sargent Omni GLH.
22. Larson/Burmeister Talon.
23. Niday/Kintigh VW.
24. Hurst/Bohn RX7.
---
Official Results of 1999 Rallye de Paris.

Back to Story on Rallye de Paris, 1999.
---
Wink Timber Media Agency
Created: 03/31/99
Updated: 08/21/99